The Best Bathroom Tub Conversion Installers in Houston, Texas 
If your bathtub is out of date or your shower is too small, consider a tub/shower conversion. We will remove your outdated tub and, in its place, install a new, larger shower. There are endless possibilities on how your new shower can look. Our installers will build your shower from the ground up including a new shower pan, designer tile, wall recess, glass shower door, and new fixture. We can even build and install a shower bench. For Best Tub Conversion Installers in Houston, Texas visit Tile Zone Store in Houston.
When you have decided it is time to convert your bathtub into a shower, Tile Zone should be the first place you visit. We carry a large collection of materials to build your dream shower. Our professional staff members can assist you with design and material choice. They will then schedule an installation that meets your timeframe. Tile Zone carries the best brands on the market at competitive prices. You will get your money's worth when working with Tile Zone. For Good Looking Tub Conversion Installers we are the best!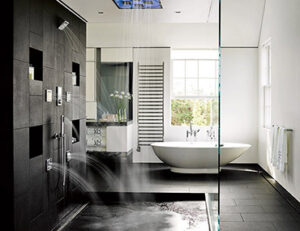 Houston's Best
When it comes to Tub conversions, Tile Zone has been making our Houston clients beyond happy, upgrade your tub today and enjoy your new bathroom.
You are
10 minutes away from the Help you need
Let one of our experts reach out to you and assist you with your upcoming project.