Specializing in Houston's Kitchen Cabinetry remodeling
Thinking about new kitchen cabinetry. Come visit our showroom and become inspired. Tile Zone has a large variety of kitchen cabinets. Let Tile Zone add life to your kitchen with new cabinets. Installing new cabinets or Kitchen Remodeling Houston Texas and refinishing your existing cabinets in your kitchen can inject new life into the design of your home. Imagine what your kitchen would look like if the cabinets were refinished or if you added brand new cabinets that truly suited your personal design aesthetic With Kitchen Remodeling and Cabinetry Flooring store in Houston.
Our design center has many different styles of kitchen cabinets on display. Our highly trained and skilled sales and installation teams are ready to help you create your dream kitchen. We will find the style that fits your design tastes. We believe the beauty, quality, price point, and selection of our kitchen cabinets will bring gratification and satisfaction to all our customers. Kitchen Cabinets or Total Remodeling we are here to serve you.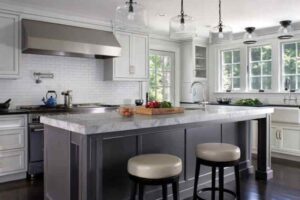 Cabinetry Design
We take special care to keep your home clean and safe during the installation process. We cover sensitive areas with plastic and remove waste daily.
In Houston, We pride ourselves on excelling at total kitchen and Cabinetry remodeling. We do work for homeowners, designers, builders, companies, insurance adjusters, and their residential/commercial clients. We provide installation services to complete your project smoothly and successfully whether you purchase your products from us or not.  All our services have a warranty for one year from the date that installation is completed.
You are
10 minutes away from the Help you need
Let one of our experts reach out to you and assist you with your upcoming project.